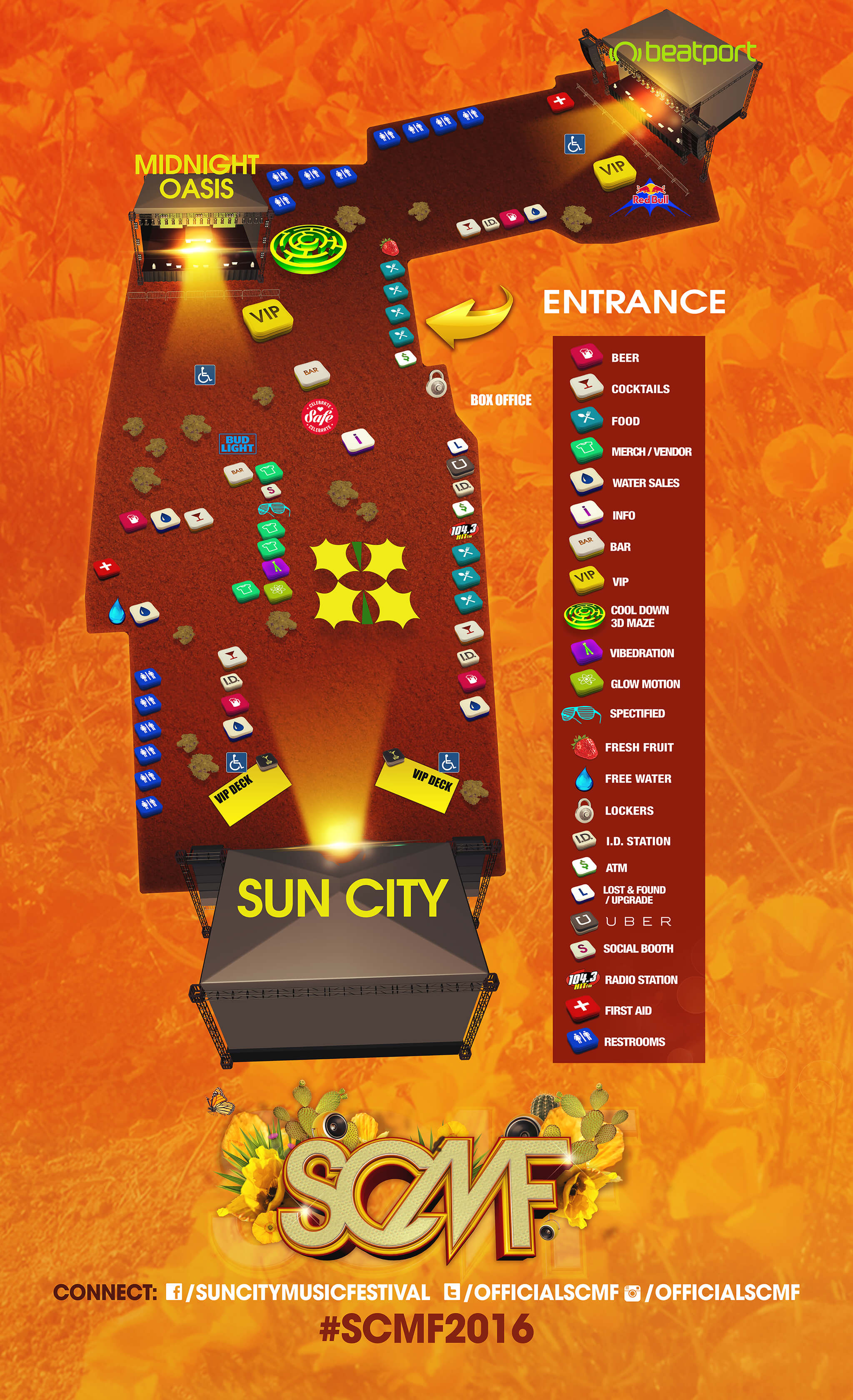 Lay the groundwork for a raucous return to the desert, and view the official map of Sun City Music Festival. Avoid wrong turns and get a feel for Ascarate Park before gates open.
There's so much to enjoy, so come prepared, and get ready to rage! Dial into the festivities using the official mobile app, available for Android and iOS, to access all your need-to-know information, including complete map details. It's time to start planning your Labor Day weekend, take a look and map out your SCMF adventure!
Uber
Make the journey with ease thanks to our partnership with on-demand car service, Uber! Enter code "SUNCITYMF16" in the promotion section of your Uber menu and enjoy your first ride for free, up to $20 off! (Promotion valid for new users only)
Water, Water, Everywhere
Dancing from day to night can be a hot and sweaty situation, which is why we added plenty of free water stations throughout the festival grounds. So remember to hydrate yo' self, you'll thank us later!
Lost & Found
When you misplace a personal item at a festival, a mini-freakout is bound to creep up from time to time. Should this happen during your SCMF experience, avoid the panic attack, and visit Lost & Found to recover any wayward belongings.
Lock It Up!
A little prevention goes a long way, protect your valuables, and reserve a personal locker today! If you have an existing reservation, visit the lockers to safely store your goods and dance freely.
Merch
Get swagged out with some custom SCMF gear! There's loads of items to choose from, including apparel and accessories. Represent SCMF in style with a variety of tees, tanks, snapbacks, and accessories. If you pre-ordered any merch, pick it up here.
Glow at the Show
Want to light up the night? Head to the Glow Motion booth to purchase, or pick up, your SCMF Glow Motion wristbands and headbands. Thanks to a sophisticated mapping program, the high-tech gear will turn our audience into a human light show.
The possibilities are endless, with multiple sources for glowing goodies. Stop by Spectified for a pair of illuminating shades, or vendors like Nite Lite Nite Life, to supply your LED needs.
ADA Accommodations
Check the map to find the best locations equipped for ADA access.
Cash Only Vendors & ATMs
Many vendors will be cash only, but don't worry — we've got plenty of ATMs located around the festival grounds.