We're nearly 10 days away from the seventh annual orbit of Sun City Music Festival, with less than two weeks until our tribe reunites under desert skies! Now that the full schedule's here it's time to finalize your group's agenda, check out the complete list of artist set times, before arriving at Ascarate Park on September 2-3rd of Labor Day weekend. Find out who will be taking the stage, so you know when and where to be each day, and use the free SCMF mobile app to create your own personal program!
There's an App for That!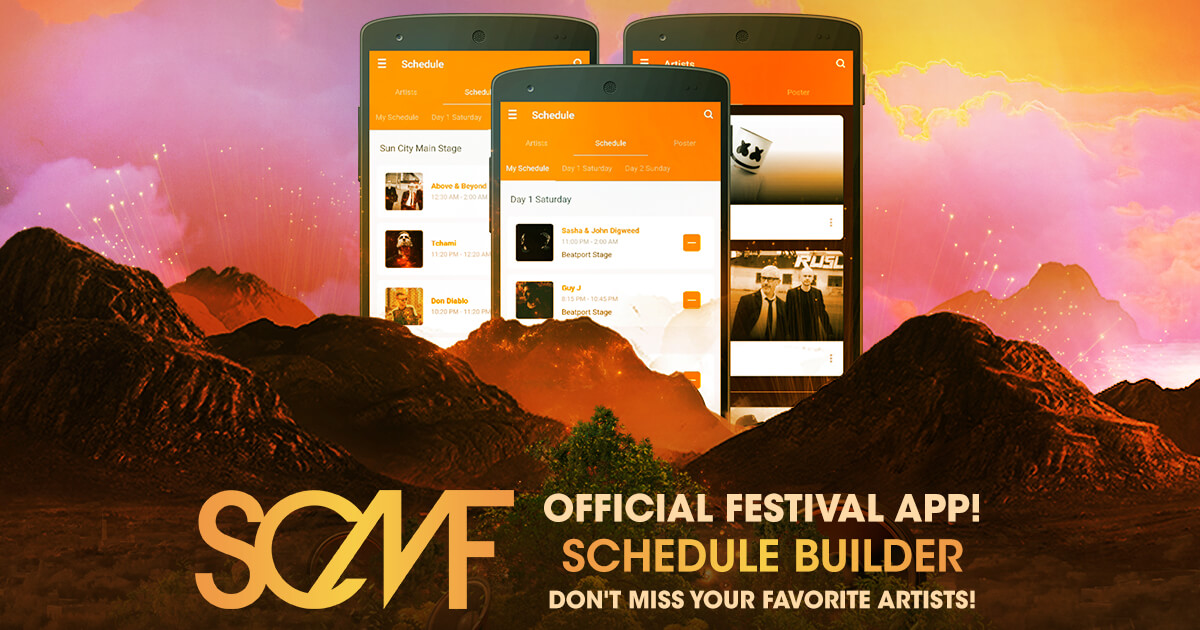 Head to Sun City where today's most sought-after producers will perform including nightly headliners Marshmello and Above & Beyond alongside 45+ international artists. The sizzling hot lineup features a diverse cross-section of genres including house, techno, trance, bass — and everything in between. This year, Beatport returns to host a stage repping the pulse of the underground with a very special guest appearance from Sasha & John Digweed whose forward-thinking productions will unleash a journey of epic proportions.
Make an itinerary to catch must-see live sets from your favorite acts and party with friends.
Plus, customize the schedule to your interests by logging in with Facebook to have your own list of shows. Download the app free for Android and iOS devices to keep our best resources in the palm of your hand.
Day 1: Saturday, September 2nd
Sun City Main Stage
Experience the potent energy of electronic music's greatest luminaries with brilliant performances at the Sun City main stage, life on Earth will forever be changed.
12:30-02:00 AM MARSHMELLO
11:25-12:25 AM Nghtmre
10:25-11:25 PM Louis The Child
09:25-10:25 PM Slushii
08:25-09:25 PM Ookay
07:25-08:25 PM Joyryde
06:25-07:25 PM Timmy Trumpet
05:25-06:25 PM Zaxx
05:00-05:25 PM Evan Evolution
Midnight Oasis Stage
Dip into Midnight Oasis and be transported to another world by the diverse lineup of today's finest players who will deliver sweltering DJ sets.
12:45-02:00 AM Seven Lions
11:30-12:45 AM Getter
10:30-11:30 PM Herobust
09:28-10:28 PM G Jones
08:25-09:25 PM SayMyName
07:25-08:25 PM Buku
06:25-07:25 PM Bonnie X Clyde
05:25-06:25 PM Loosid
Beatport Stage
Tap into the sounds of the underground pulsating from the Beatport Stage including some of house and techno's most cutting-edge talents.
11:00-02:00 AM Sasha & John Digweed
08:15-10:45 PM Guy J b2b Guy Mantzur
06:45-08:15 PM Latmun
05:00-06:45 PM Cromeens
Day 2: Sunday, September 3rd
Sun City Main Stage
The main Sun City stage will be set ablaze with stellar shows bringing the heat to fuel dance floor fire. Camp out here as the stars unfold a whole new universe before your eyes.
12:30-02:00 AM ABOVE & BEYOND
11:20-12:20 AM Tchami
10:20-11:20 PM Don Diablo
09:20-10:20 PM Malaa
08:20-09:20 PM Dirty South
07:20-08:20 PM Shaun Frank
06:20-07:20 PM Dirty Audio
05:20-06:20 PM DVJ King Arturo
05:00-05:20 PM Evan Evolution
Midnight Oasis Stage
Dwell in the Midnight Oasis to get lost in the sounds, with styles ranging from the house and techno realms to the rumbling wobbles of low-end bass lovers.
12:30-02:00 AM Borgore
11:30-12:30 AM Snails
10:30-11:30 PM Illenium
09:30-10:30 PM Rezz
08:30-09:30 PM Drezo
07:30-08:30 PM Wax Motif
06:30-07:30 PM Brohug
05:30-06:30 PM No Mana
Beatport Stage
Head to the Beatport stage featuring mainstays of the underground including industry trailblazers and chart-topping acts for you to discover a new favorite sound.
12:00-02:00 AM Nicole Moudaber
10:30-12:00 AM Sam Paganini
09:00-10:30 PM Steve Lawler
07:30-09:00 PM Dosem
06:00-07:30 PM Andre C.
05:00-06:00 PM Monoparty